Online payments have proven to be beneficial to businesses as it allows for quick and easy payment. However, if you are running an online business, accepting payments online may present more challenges than you anticipate. This is especially true when it comes to managing the risk of fraud that can impact both your business and customers. As such, there is a lot that goes into the acceptance of online payments. If you are a business that sells products or services online, you will need to have a merchant account and a merchant of record to process credit and debit card payments. There are different ways you can go about having a merchant of record. This article gives you a rundown of all you need to know about merchant of record entities and how you can best protect your online business.
What is a Merchant of Record?
A merchant of record (MoR) is the entity that is authorised to process a customer's credit and debit card transactions. These entities are held liable by financial institutions in terms of processing payment, tax law compliance and fraud prevention measures. To put it simply, the merchant of record is the name appearing on a customer's card statement. As a business, you can either choose to be your own merchant of record, or you engage with an MoR provider such as Paypal and Stripe. If you go with the latter option, your MoR provider technically becomes your customer from a financial perspective. They then 'sell' your product or service to the end customer.
Responsibilities
An MoR streamlines the checkout process for customers. They are responsible for maintaining a merchant account and securely sending customer card information to the merchant bank. They also bear the responsibility of processing fees and refunds. Other responsibilities of an MoR include:
Maintaining relationships with merchant banks
Calculating and collecting tax
Updating transaction processes according to local laws and regulations
Ensuring compliance with PCI-DSS standards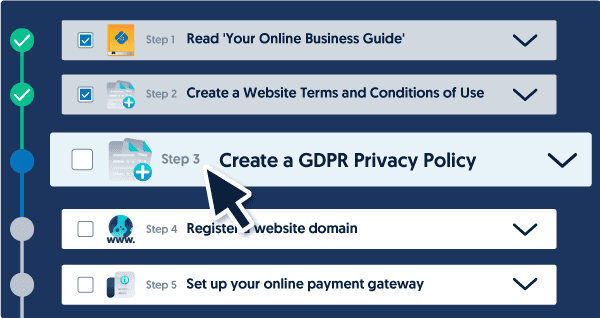 Do you want to start your own website?
Use our 'Start a Website' workflow to complete and check off all your legal requirements.
Start now
PCI DSS compliance and other obligations
The Payment Card Industry Data Security Standards (PCI DSS) are requirements that ensure the security of customer card information. Every business accepting card payments must comply with these global standards and it is the MoR's responsibility to do so. Some PCI DSS requirements include maintaining secure networks, protecting cardholder data, testing security systems, and maintaining information security policies.
In addition to the PCI DSS, accepting online payments require businesses to comply with local laws such as the Anti-Money Laundering and Counter-Terrorism Financing Act 2006, Australian privacy laws, as well as APRA and ACCC standards.
Your options
There are two ways you can process online payments. You can either be your own merchant of record, or you can use an MoR provider. Depending on your situation, either option can present both advantages and disadvantages.
Being your own MoR: This process may be costly. It requires you to apply to set up your own merchant bank account. Customers may be hesitant to directly pay your business and may prefer to engage with a popular MoR such as Paypal. However, this option gives you greater control over when the funds from the card payment are remitted back into your business's standard bank account.
Using a third party MoR: As you can see, it may be difficult to comply with the extensive laws, regulations and standards surrounding online payment. Merchant of record providers will ensure total compliance and will mean that liability is transferred to the MoR entity. These entities also already have established relationships with banks, making the process much easier. This option is typically the cheaper, worry-free option. However, engaging with a third party means that you are limited to their terms of use. Therefore, you can potentially expose yourself to the risk of account suspension and frozen funds as per the agreed terms.
Final thoughts
If you run an online business that requires online payment, you need a merchant of record to process the payment. Deciding on who will be your business's merchant of record can be tricky and requires you to assess the pros and cons according to your business. Engaging with the services of a third-party merchant of record may be a viable option for you as they carry the liability and ensure safe credit and debit card transactions. If you need assistance with setting up a merchant account or engaging with a merchant of record, we recommend contacting a business lawyer.